The bottom ash components you choose for your bottom ash handling systems are important. Utility companies consistently look for cost-effective solutions and products to efficiently handle high-temperature boiler ash. This ash (either bottom or fly ash) needs to be cooled and/or processed before it can be transported from the power plant. American Energy Products provides high-quality bottom ash components that can fit your current equipment or be custom made to fit.
American Energy Products offers two bottom ash components:
The BASS™ Bottom Ash Seal Skirt has an exclusive patent pending corrugated design and requires no field fabrication. The BOILER ARMOR™ Flexible Mesh Drip Screen is a durable, easy to use and install replacement for traditional wire cloth and plate. American Energy Products is here to help you select right bottom ash components to fit your bottom ash handling systems.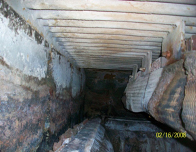 Scallop Bar
Scallop Bar
BOILER ARMOR™
BOILER ARMOR™
BASS Seal Skirting
BASS Seal Skirting